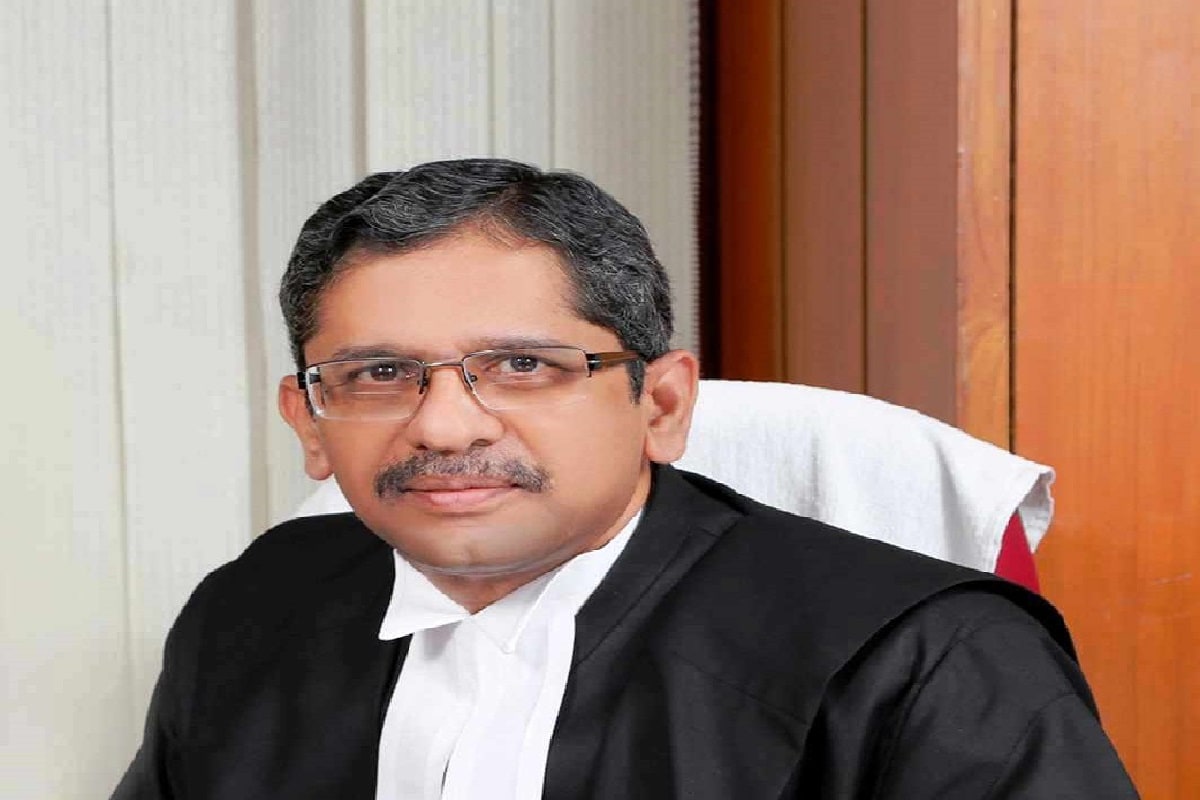 New Delhi.
Chief Justice of India SA Bobde has sent the name of the second most senior judge of Supreme Court NV Ramana to the government as his successor. In such a situation, it is clear that Justice Ramanna will be the 48th Chief Justice of the country. The current CJI SA Bobde is retiring on 23 April. If the government approved the recommendation of CJI Bobde, Justice Ramanna would take the oath of CJI on 24 April. His term will be till 26 August 2022.
Justice Nuthalapati Venkata Ramana was born on 27 August 1957 in Punnavaram village in undivided Andhra Pradesh. He started advocating on 10 February 1983. During the time when Chandrababu Naidu was the Chief Minister of Andhra Pradesh, during that Justice Ramanna was the Additional Advocate General of the Government of Andhra Pradesh.
Justice NV Ramanna to be next Chief Justice of Supreme Court, CJI Bobde recommends
NV Ramanna, who belongs to the farming family, has graduated in science and law. After this, he started the practice of law in Andhra Pradesh High Court, Central Administrative Tribunal and Supreme Court. He also served as a panel counsel for the agencies of state governments. On 27 June 2000, he was appointed as a permanent judge in the Andhra Pradesh High Court. After this, he was acting Chief Justice of Andhra Pradesh High Court from 13 March to 20 May 2013, Justice Ramanna was promoted on 2 September 2013. After this, he was appointed as Chief Justice of Delhi High Court. Then on 17 February 2014, he was made a judge of the Supreme Court. Apart from law, he has a keen interest in philosophy and literature.
Who else are in your family ?
Justice Ramanna is survived by his wife N Shivamala and two daughters Dr NS Bhuvana and NS Tanuja. Three years ago i.e. on March 31, 2018, according to the details of his property, he had a liability of 30 lakh rupees. Apart from this, he and his family had a few plots in Andhra Pradesh, including Hyderabad and Noida, and some more separate agricultural land, including ancestral agricultural land.
Justice Ramanna, as a judge of the High Court and Supreme Court, gave these special decisions: –
1. A bench of Justice NV Ramanna and Justice Suryakant had given a big decision in January this year regarding housewives. The bench said that the value of a woman's work in the house is not less than that of her office going husband. In 1993, the Supreme Court gave a ruling in the case of Lata Wadhwa vs. State of Bihar, saying that there is no single aspect of service of a housewife. She looks after the entire family. The case was that a couple from Delhi died in a road accident in April 2011. An application for compensation was filed on behalf of his two daughters and father. The Motor Accident Claim Tribunal ordered that the victim party be given a compensation of Rs 47 lakh. Delhi High Court reduced this amount to 22 lakhs.
Then the matter came to the Supreme Court. The Supreme Court increased the compensation amount to 33 lakh 20 thousand rupees. In this way, a bench headed by Supreme Court Justice NV Ramna ordered to increase the compensation amount to the next of kin of Delhi couple.
2. Justice Ramanna was included in the bench of the Supreme Court, which gave a decision to immediately review the suspension of internet in Jammu and Kashmir. He has also been involved in the historical bench, which brought the office of the Chief Justice of the country under the purview of the Right to Information Act (RTI).
3. A 3-judge bench of Justices N.V. Ramana, Justices S.A. Nazir and Justice Suryakant in the case of Mohammed Anwar, the Minister of State for NCT of Delhi, said that the accused would have to show up to successfully claim the defense of mental cruelty under Section 84 of the IPC That the girl was suffering from severe mental illness or weakness.
4. In 2019, the Constitution Bench of the Supreme Court of Justice Ranjan Gogoi, Justice NV Ramana, Justice DY Chandrachud, Justice Deepak Gupta and Justice Sanjeev Khanna gave an important judgment saying that the office of Chief Justice of India also comes under the purview of the Right to Information .
5. A 5-judge constitution bench of Justice Ranjan Gogoi, Justice NV Ramana, Justice DY Chandrachud, Justice Deepak Gupta and Justice Sanjeev Khanna upheld the validity of Section 184 of the Finance Act, 2017. The bench said that the said section does not suffer from excessive delegation of legislative functions.
State wants to increase reservation limit by more than 50 percent, Rajasthan government puts parties in SC
'Judge's life is not Gulbo's SEZ'
Apart from this, in a program last year, Justice Ramanna had said a great deal about the life of the judges. He had said, 'From my own experience, I can say that the life of judges is not a bed of roses'. Justice Ramanna had said, 'The truth is very different from what people think. I feel that to become a judge in the present times, more sacrifice is required than any other profession. This has to be done for the future of the country, as it relies on strong independent judges. '
.